As of June 30, 2014, the end of the City's fiscal year, Hartford's General Obligation debt included scheduled payments through the fiscal year ending in 2033.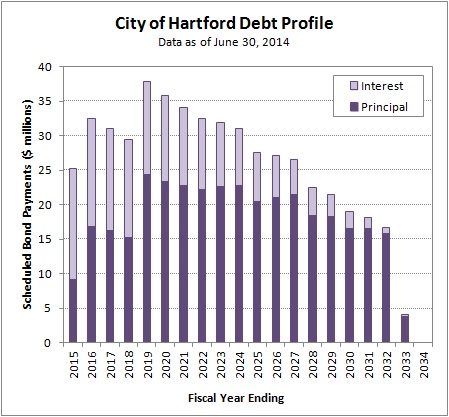 There was no public debt issued by the City during the fiscal year that ended in June of 2014. However, the projected debt payments have changed since the June 30, 2013 long-term debt analysis.
The 2014 Comprehensive Annual Financial Report (CAFR) shows a $10.25 million debt issue from March 2013 on the table on page 65 of the pdf.
That issue was not included in the June 30, 2013 analysis because it was not included in the 2013 CAFR.
The table on page 70 of the 2013 CAFR shows the $124.6 million March 2013 issue that Hartford used to restructure City debt. The table does not show the $10.25 million March 2013 issue. In addition, there is no public offering statement available on the EMMA website.
Hartford Treasurer Adam Cloud stated that the $10.25 million issue was a private placement with Bank of America that did "not require an official statement" on the EMMA website, and that the funds were used for "various capital projects."
Note that the Comprehensive Annual Financial Report for 2014 shows both the refunding bonds and the refunded bonds from the $124.6 million 2013 debt restructuring. This overstates the amount of debt the City owes by over $100 million, making some of the CAFR's tables and exhibits misleading. There is an accounting technicality involved that is explained in Note 8 on page 64 of the pdf.